Talk to your patients about research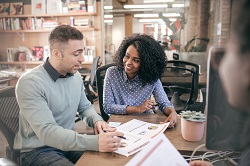 The NHS Constitution includes a pledge that everyone has the right to be informed of research studies they are eligible to participate in.
This site has been designed to help raise awareness of research opportunities for you and your patients. You can use it to find suitable studies or enable your patients to explore opportunities in their own time.
Only through research can we find ways to improve prevention, diagnosis, care the treatments. It can also help people living with a condition have a better quality of life.
Start the conversation
Talking about research is one way to provide best care. We know that 87% of participants on a NIHR supported study had a good experience of taking part in research. (Patient Research Experience Survey 2017/2018)
Here are the common barriers and the facts in order to start a conversation:
Fear

- There are different types of research,every study is different. For example, some studies test new treatments or therapies. Others may involve interviews or surveys.

Time

- not all studies take up the same amount of time. For example some studies are only short, whilst others take longer.

Travel - not all studies involve travelling to a hospital or site. Some studies can be done at home.


Eligibility and information
The research team will tell any participants what the study involves before the participant agrees to take part. Participants can choose whether or not to take part in a study and can opt out at any time.
Sharing study details
Once you've found a study that's relevant, use the download button on the top right hand side to access a print-friendly version or you can email it to them directly from here. Look out for this symbol
Within the full study details, you can find more information such as who to contact, the exclusion/inclusion criteria and more details. This will help decide whether they're suitable to take part.
Important questions and further reading
Anyone wishing to participate in research will need to know some important information before making an informed decision. These questions are a helpful start.
How to take part, what happens on a study and why take part can be viewed in their own time, after the appointment.
Confidentiality and handling patient data
Understanding Patient Data is a website developed because four in five people do not know how their health data is used. It's aim is to explain how and why data can be used for care and research, what's allowed and what's not, and how your personal information is kept safe.
On the homepage you will find an animation which follows the journeys of a patients with cancer, dementia, asthma, diabetes and a heart attack. The animations show all the ways in which the information from these patients is used to improve care.
Other ways to take part
Not everyone can participate in a trial, but there are many other ways to help or shape research.
---
Next steps
Find a study - search by keyword, condition, medicine or location.
Vital questions - so that your patients can make an informed decision to take part
A-Z of conditions - use this list to browse studies on our site, grouped by the condition name