---
For some people, combined lifestyle interventions - including diet, physical activity and sustained weight loss - can reduce the risk of type 2 diabetes by about 50%. NIHR research has empowered many people to manage their diabetes more effectively, but more action is needed if we are to alter current trends.
Diabetes can affect day-to-day life and raise the risk of developing problems with the eyes, heart and nerves. It already accounts for 10% of the NHS budget and could affect one in ten UK adults by 2030.
Type 2 diabetes is caused by problems with a hormone called insulin and it causes blood sugar levels to become too high. It is on the rise and Diabetes UK predicts that if nothing changes there will be more than 5.5 million people in the UK with type 2 diabetes by 2030.
The NIHR has funded significant research into both prevention of, and treatments for, type 2 diabetes. This has shown that weight loss can reduce the risk of, and in some cases even reverse, a diagnosis of, type 2 diabetes. NIHR researchers have worked with the NHS on the Healthier You Diabetes Prevention Programme to ensure it works as effectively as possible and maximises the chances of patients' success.
Lifestyle interventions can improve health
Research has shown that nearly half of people on a strict 800 calorie a day diet for three to five months went into remission from type 2 diabetes. Participants had all been diagnosed with type 2 diabetes within the last six years. They were given meal-replacement shakes three times a day, and gradually reintroduced to food, and those who stuck with the programme lost an average of 10kg.
After a year, almost half of individuals who were able to continue with the diet had reversed their diabetes diagnosis and two thirds were also able to stop their diabetic and high blood pressure tablets.
Another NIHR-funded study found that people who lose 10% of their body weight in the first year after diagnosis of type 2 diabetes increase their chances of being in remission after five years. In this research, people were supported in their weight loss but not put on an extremely low-calorie diet or high exercise regime. Their weight loss was slow and steady and the finding suggests that, in some people, moderate approaches to weight loss can achieve remission over the longer term.
As far as prevention is concerned, weight loss and lifestyle changes are a major focus of research. In a third NIHR-funded study, very obese adults who underwent surgery to help them lose weight were found to be 80% less likely to develop type 2 diabetes within seven years than obese adults who did not have the surgery. Although surgery is more expensive than non-surgical interventions, it can end up being cost-effective over the patient's lifetime because of reduced risk of diseases such as type 2 diabetes.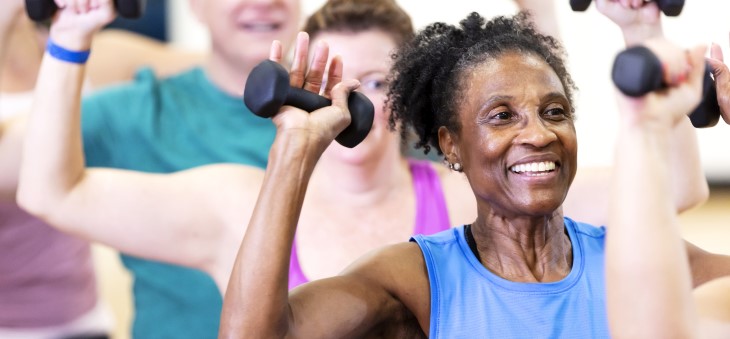 Low calorie diet plus exercise
In the knowledge that low calorie diets can help people reverse their type 2 diabetes diagnosis, researchers are now investigating whether structured exercise combined with a low-calorie diet can achieve the same result. A team at Leicester Diabetes Centre is investigating whether combining exercise such as walking and weight training, and a low-calorie diet can reverse diabetes and improve heart health over 24 weeks.
Participants will be allocated to one of two groups. One will follow a low-calorie diet for two weeks followed by some meal replacements from weeks 3-12 as well as supervised aerobic and resistance exercise. They will be taken off some of their medication by a physician and monitored during the 24-week period. The other group will continue with their standard medication and receive the meal replacement and food reintroduction, but there is no supervised exercise as part of the trial. The team hopes that this will show whether exercise can have an impact alongside weight loss in diabetes management.
The RESET for REMISSION trial is currently recruiting people aged 18-45 years with type 2 diabetes diagnosis in the last six years who are not on insulin. All participants perform tests and receive questionnaires at three points during the trial.
The group receiving the research intervention is put on a 900 calorie a day diet for 12 weeks - consisting of meal replacement shakes and bars. They will also exercise under supervision from week three onwards. For twelve further weeks they eat at a 'weight maintenance' calorie level and exercise on their own but can return to supervision or meal replacements if they gain weight or don't exercise enough. By comparison, the control group manages their diabetes as usual. The researchers will compare how many participants go into remission, and look at their cardiac MRI results, percent of muscle and fat as well as other factors.
Problems with falling or staying asleep have been linked to the development of type 2 diabetes. Researchers funded by the NIHR are testing whether ensuring better sleep by using a proven behavioural treatment can help improve health in people at risk. They will begin with a small study to see if a larger trial is feasible.
Participants will be fitted with a continuous glucose monitor and a watch that will measure rest and activity for an initial period of seven days. Then they will begin using a digital sleep intervention called Sleepio for ten weeks, followed by another week of glucose and rest monitoring. The programme involves some changes to sleep patterns, some blood tests and some longer visits to the clinic to monitor progress.
Want to get involved with research?
---