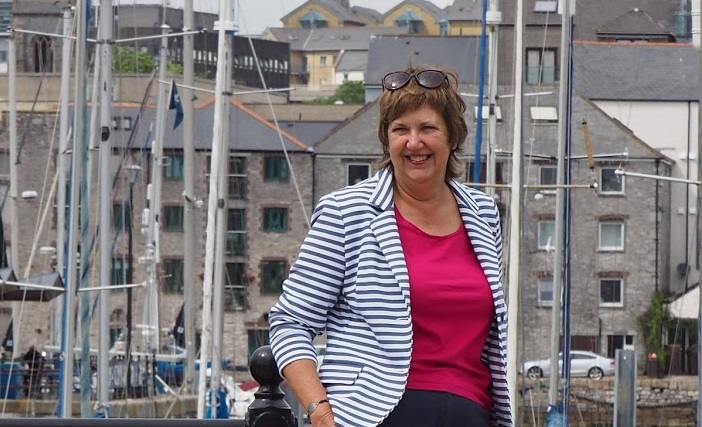 Jane was diagnosed with diabetes at the age of 11 with a life expectancy of 30. She has now been living with diabetes for over 50 years and has received the Alan Nabarro medal. She has taken part in multiple studies and has seen first-hand the benefits of medical research to advance the care and treatment of diabetes which allows her to live a full and normal life.
Jane lives in Plymouth with her husband of 43 years and enjoys an active lifestyle and loves sports and swimming.
I qualified as a Physiotherapist in 1976, working in small general hospitals in Wales and in a respite care centre operated as a hotel and jointly funded by Health, Social Services and the Multiple Sclerosis Society. I came to Plymouth in 1989 to work in elderly care and mental health. When I retired in 2010, I was Team Leader for Mental Health Physiotherapy and a Huntington's Disease (HD) specialist. I became a member of the Physiotherapy Working Group, which was part of the European HD Network. This group contributed to the guidelines for the physiotherapy assessment, treatment and management of HD.
Diagnosis and managing diabetes
I was misdiagnosed by my GP as having tonsillitis, the reason cited for my great thirst, and given penicillin. It wasn't until I stayed with my Grandmother at the age of 11 and her GP correctly diagnosed my diabetes that I was admitted to hospital and stabilized on insulin.
At the time, metal and glass syringes and needles were boiled and kept in surgical spirit and urine testing was the order of the day. I have vague memories of being told that I would need injections for the rest of my life and my life expectancy would be limited.
When I started Physiotherapy training in 1972 and had access to a medical library, I decided to research this for myself and found that I had about 30 years. Thanks to clinical research, medicine has progressed enormously. I have experienced first-hand the significant improvements achieved in the treatment and management of diabetes.
Living with diabetes for 54 years now, I've been through most of the Insulin Dependant Diabetes Mellitus (IDDM) trends - carbohydrate portion diets, mixed insulins, insulin pens, multiple injections and the insulin pump, which I love to bits - not to mention carbohydrate counting again (some things go full circle).
One of the biggest breakthroughs for me was blood glucose monitoring. I was loaned a meter by the Diabetes clinic for my pregnancy in 1981. Having used a meter just once and experiencing the difference it made for me, I decided to buy my own. It cost £90 and I had to buy the strips myself.
I've just completed a trial with the new FreeStyle Libre glucose monitoring system where you only have to scan an implanted sensor rather than finger pricking.
Why I support research
After my retirement in 2010 I participated in my first diabetes research project – Hypocompass – which aimed to reduce hypoglycaemia in Type 1 Diabetes. I was randomised to the group having multiple injections and continuous blood glucose monitoring. It involved keeping accurate blood glucose results and detailed hypo diaries.
There was a lot of medical support to improve my blood glucose control and I reduced my hypos a lot, which also improved my awareness. As a part of this study, I also agreed to participate in the CLAMP study which involved looking at cognitive ability under medically induced hypoglycaemia and have consented to blood samples and DNA being stored for possible future research.
Apart from the obvious benefits to me, the NHS has served me well for my career and my Diabetes. I feel I can help to give something back and help improve Diabetes management for everyone.
What research means to me and my family
Through another research project (TrialNet) my son has discovered he does not have the antibodies for Type 1 diabetes.
Education has proven to be effective and has empowered me to manage my condition. Back in the late 60's I went to Diabetic summer camps organised by The British Diabetic Association, now Diabetes UK. We learnt to be independent and that we could do things non-diabetics did.
Thanks to the monitoring that takes place during research, particularly for diabetes complications, I still have excellent sensation in my feet and 20/20 vision and am able to drive.
Commitment has varied with each study. They all involve a lot of blood samples. Some have required extensive screening prior to and during the study. I needed to keep accurate blood glucose results and detailed hypo diaries, but my health and quality of life benefits from taking part. I believe we should all be proactive in managing our own health and wellbeing.
I am currently a Patient Research Ambassador reviewing research websites, protocols and documentation and taking part in international clinical trials days and giving talks to various groups.
In 2015 for my 50 years of diabetes challenge, I swam the channel (22 miles in a swimming pool – 1416 lengths, managing 240 lengths a week) to raise funds for Diabetes UK.
I believe I wouldn't have survived 54 years of Type 1 Diabetes if it wasn't for treatment advances informed by clinical research. I also feel that by contributing to research, I am doing my bit for giving something back to the NHS.
Read about the Alan Nabarro medal.
---
Tell us your story
Have you taken part in a research study? Do you want to share your story like the others on this page? Let us know by emailing bepartofresearch@nihr.ac.uk