---
We are passionate about improving the experience for our brilliant, thriving community of health research volunteers – without them, progress simply cannot be made. This is why we support the Health Research Authority's (HRA) Make it Public strategy, which is designed to deliver greater transparency in health and social care research.
Make it Public will ensure everyone taking part in research is fully informed about the progress of the vital research they're helping to deliver. We know this is important to our volunteers – and if it's important to them, it's important to us.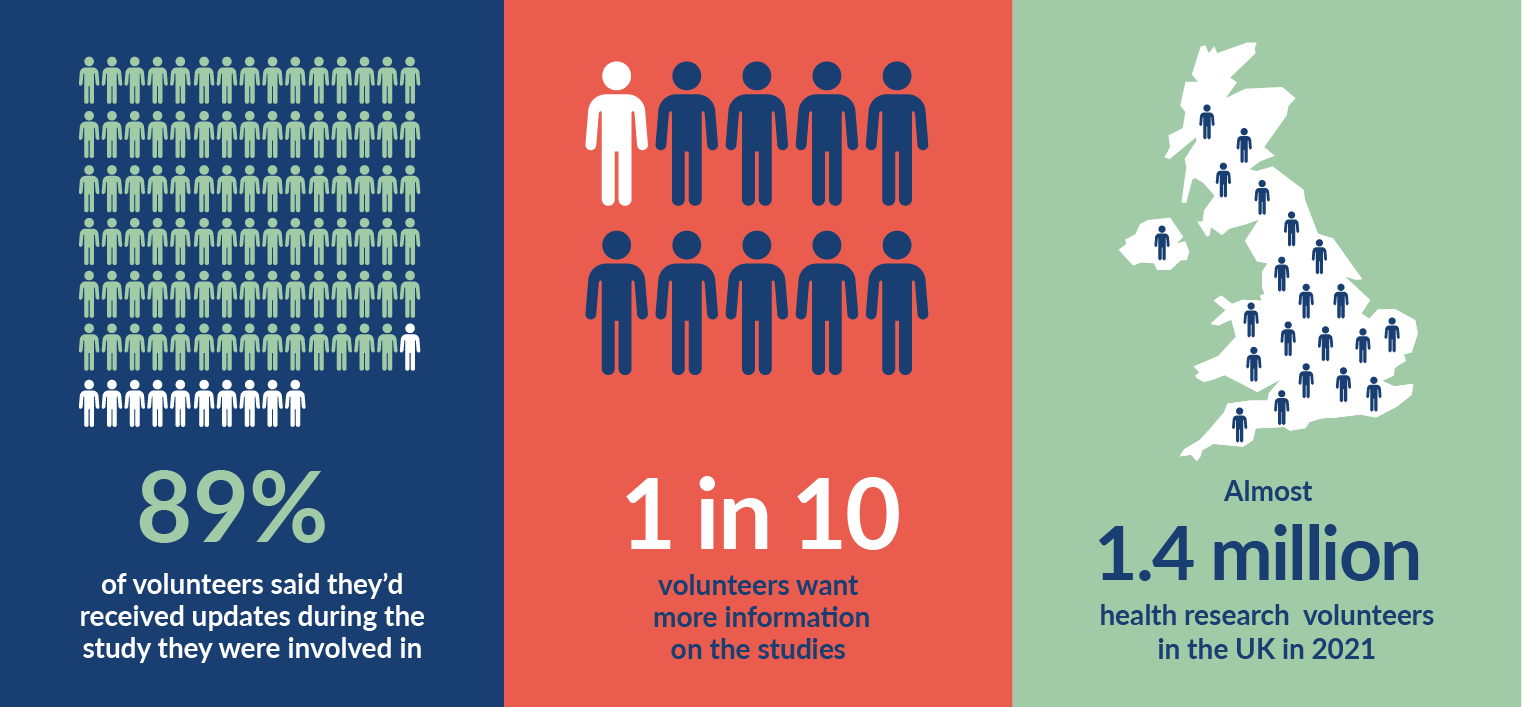 We know 1 in 10 volunteers want more information
We asked thousands of adult and child volunteers to take part in the Participant in Research Experience Survey. While 89 per cent of people said they'd received updates during their study, this still leaves plenty of room for improvement – and with more volunteers taking part in National Institute for Health and Care Research (NIHR) clinical studies than ever before, there's an even greater responsibility to get it right.
In 2021, there were almost 1.4 million amazing health research volunteers in England, while nearly 100,000 patients in Wales, Scotland and Northern Ireland took part in COVID-19-related studies alone in 2020-21.
Every single participant deserves to know exactly how their trials performed, and the impact their volunteering will have on the prevention, diagnosis and treatment of illnesses.
Make it Public aims to transform research transparency in a big way
The Make it Public strategy will ensure that information about health and social care research studies is easily available to everyone. It's been shaped following a public consultation involving hundreds of researchers, sponsors, patients and participants, funders, and registries from across the UK – all of whom feel passionately about the openness of research.
The strategy focuses on research transparency in three areas:
Registration: letting people know that a study has started

Reporting results: sharing publicly what the study has found

Informing people: letting those who took part know what the study has found
And it's not just about keeping participants better informed. It's just as important to share knowledge with research and care professionals so that studies aren't duplicated, and results can help develop new treatments and improve outcomes for patients.
Make it Public is a living, breathing strategy
The strategy is for the public and will evolve and grow in consultation with the public. Naho Yamazaki, Head of Policy and Engagement at the HRA, explains:
"We've put together a Make it Public campaign group, which is co-chaired by the HRA's Chief Executive and a patient advocate, to think about ways that we can collectively enhance research transparency practice.
"There's a courtesy aspect to communicating the results to participants – it's important to recognise their time and say a huge thank you – but it's also about increasing trust in the whole research process, to ensure people remain engaged and ready to participate again in the future."
Research participant Marium Zumeer agrees that transparency builds trust. Marium took part in the RECOVERY study while severely ill and hospitalised with COVID to see if the steroid dexamethasone could improve her condition and avoid the need to be placed in an induced coma for eight weeks. The dexamethasone worked – and Marium is now a sitting member of the NIHR's Urgent Public Health panel, where she reviews current studies. She welcomes Make it Public, saying:
"I think it's important that research is kept transparent between the researchers and the participants involved. When I took part in the drug trial, my family and I were kept up to date throughout and I never felt uncomfortable. It's all about knowing you have the support there from the people conducting the research. Based on my experience, if I was asked to, I would take part in research again."
The Make it Public strategy recognises the essential contribution that volunteers make to health research while holding everyone involved to greater account. The NIHR supports openness in this area – it will only lead to higher quality outcomes for patients, now and in the future.
You can read more about the Make It Public strategy on the HRA website.
Want to be part of research?
You're in exactly the right place…
To get started, find out more about the different types of research you can get involved in – there are more than you might think – or use the 'Search for a study' link at the top of this page. There's a medical breakthrough just waiting to happen with your help…