---
Health inequality is linked to the quality, convenience and experience of care patients receive, as well as the opportunities they have to lead healthy lives and even overall life expectancy rates.
We talk to Senior investigator for the NIHR School for Public Health Research and Public Health Professor Clare Bambra (below), to understand what health inequalities are, and then look at what is happening across the NIHR to address inequalities in health research.
What factors influence health inequality
Health inequalities and differences between regions, socio economic groups, ethnic groups, men and women, have existed from the 1800s onwards – and probably long before that.

There are a number of factors which determine people's likelihood of being healthy including:
The circumstances in which people live

Whether they have access to good schools, good work, good health care

Whether they're on a high or low income

Whether they're involved in their community

If they're able to have control over their lives.
Clare says: "The gaps in health equality are most prevalent in those people who live in the lowest 20% of neighbourhoods in terms of income. For these groups most affected by food and childhood poverty, the health impacts can have life-long consequences.
"If we look at children for example we can see things like higher rates of mental ill health among those growing up in poverty. That then leads to reduced engagement within the labour market when they're older, and indeed can predict ill health later in life, so they're much more likely to end up with health conditions such as arthritis or diabetes, as well as more serious mental health issues."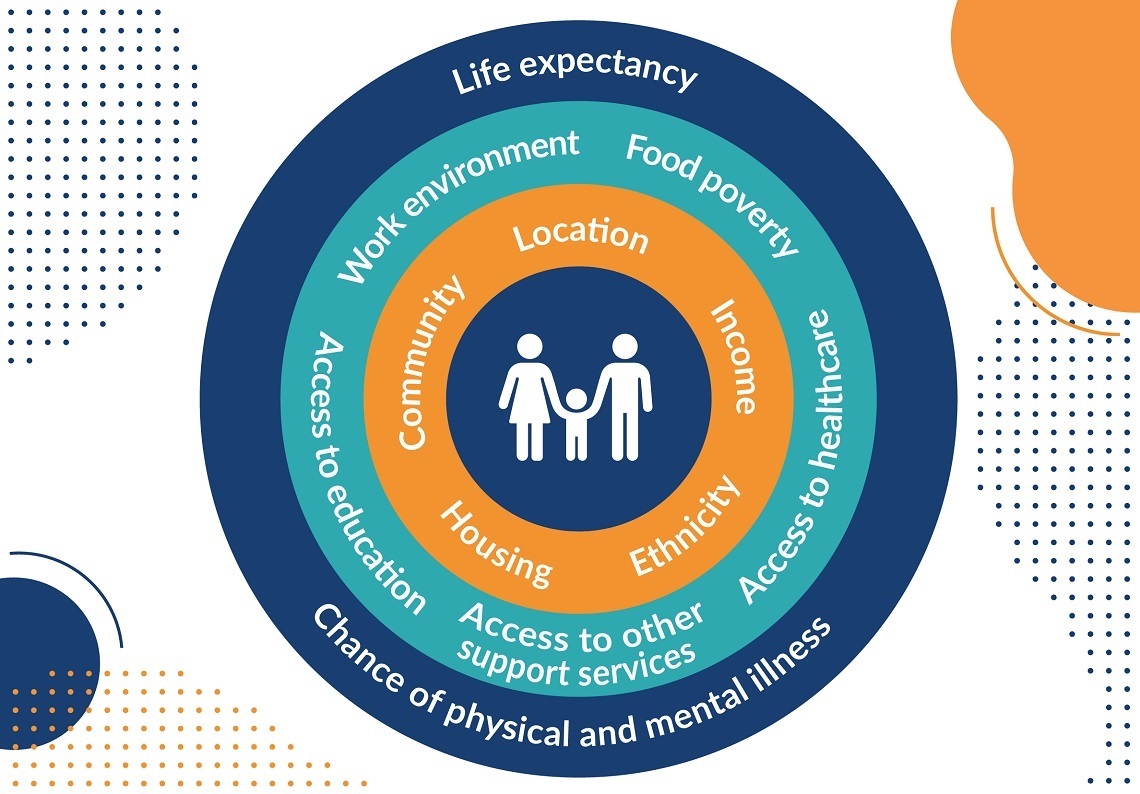 Tackling the conversation around health inequality
Health inequality doesn't only impact people from lower income areas. All kinds of groups can feel the effects, and it can depend on ethnicity, geographical location and other social factors.
Clare illustrated these kind of issues by creating a 'Health Football League', using data from the local authorities where the Premier League football teams were located.
She explains: "For Manchester United, I used health data from Trafford local authority. For Manchester City, I used data from the City of Manchester. I then ranked each team based on a variety of indicators, including things like alcohol consumption, average weight, life expectancy, and so forth."

"It was very clear that there was a massive gap between Manchester United and Manchester City. If they were scored on health terms, Manchester City would have been relegated and Manchester United would have been in the top of the table. And of course, those two stadiums are only a few miles apart. So it enabled me to use the lens of football to show that big divide in Manchester, and allowed me to ask those questions about how Manchester City could do better in health terms."
Professor Dinesh Saralaya, consultant respiratory physician and director of the NIHR patient recruitment centre in Bradford, has vast experience of different kinds of health inequalities in and around the city. He explains: "Some people from the black, Asian and ethnic minority communities don't have a good understanding or working knowledge of English. These communities can end up neglected by healthcare because of the language barrier."
He emphasises the importance of representation in research trials themselves, as some in the black, Asian and ethnic minority communities are hesitant to take part, have reservations based on cultural reasons or lack an understanding of research. "We need champions from these communities to be actively involved in the cause, going out to speak to support groups, running seminars, running focus groups and telling others the benefits of research".
One of the research volunteers Professor Saralaya previously treated has gone on to make a difference in her community, by becoming one of these research champions.
Estimated life expectancy across the UK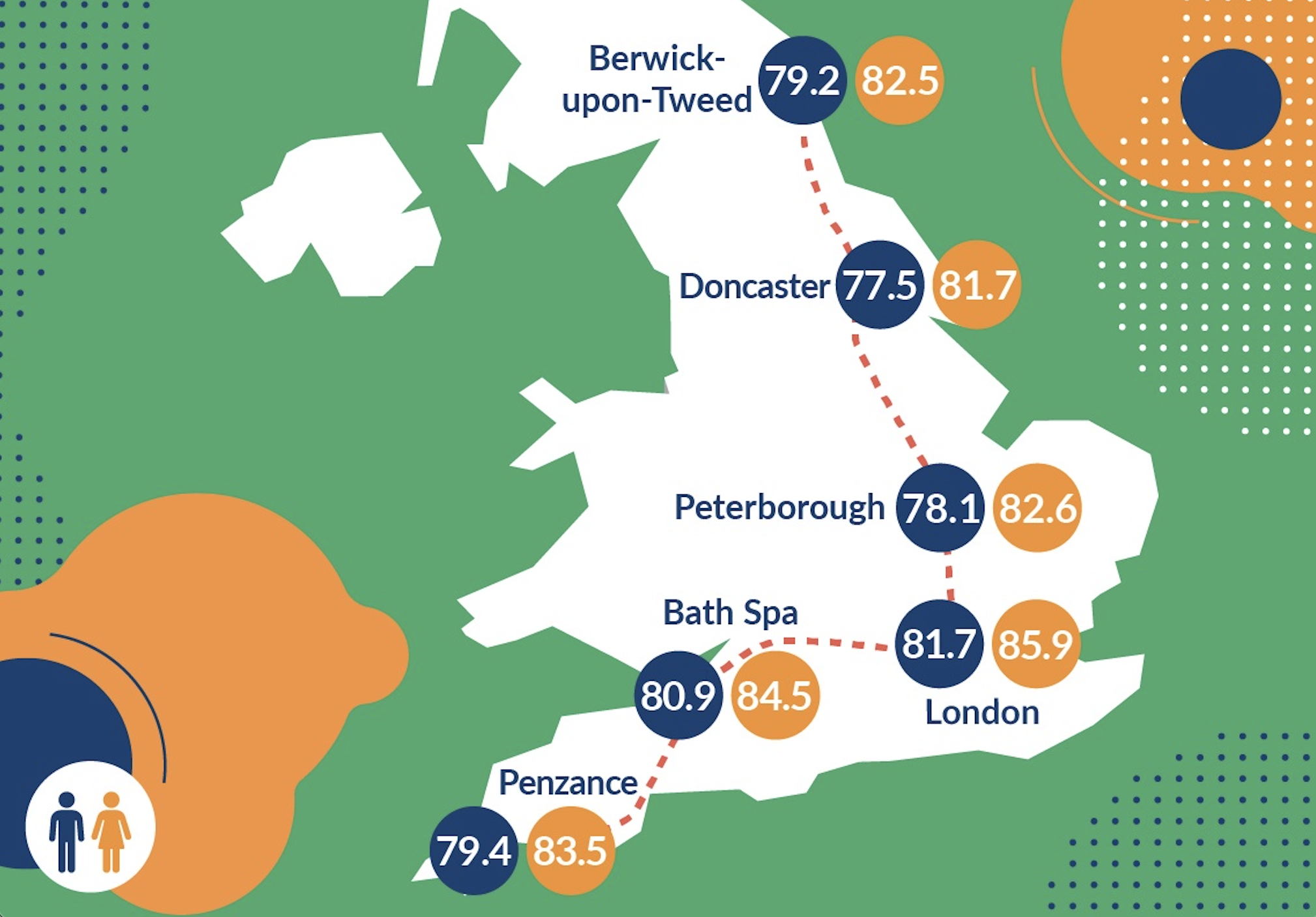 The infographic above is based on the work of Prof. Clare Bambra. It shows the variation in average life expectancy at birth for towns across the UK.
NIHR studies looking to provide health equality for all
Researchers across the NIHR have developed initiatives across the country to explore and address health inequalities. Here are just two examples:
Making research more accessible and inclusive
The NIHR Manchester Biomedical Research Centre, NIHR Manchester Clinical Research Facility and the Manchester University NHS foundation trust study is exploring how to reduce social inequalities across Greater Manchester.
One of the study's initiatives focused on lung cancer, which is often prevalent in deprived areas and linked to premature death in the city. A free lung check issued to smokers aged 55-74 was run in convenient community locations. The accessibility of this check led to 4.4% of participants being diagnosed with lung cancer – 80% were found in the early stages.
The team are also delving into how, historically, women from black, Asian and ethnic minority communities have been less engaged with early breast cancer screening opportunities. To address these issues, researchers have been engaging with these communities to understand how they can develop strategies to gain more participation from the black, Asian and ethic minority groups.
Exploring the equality of research participant involvement

This study by the NIHR's Applied Research Collaboration (ARC): East Midlands is aiming to make research participation more inclusive for groups who might not otherwise be fairly represented, such as people of South Asian origin or LGBT women. by the NIHR's Applied Research Collaboration (ARC): East Midlands. The team at the University of Leicester are focusing on how people from these often-marginalised groups are recruited and engaged in research currently, and how that process can be improved.
Research has a vital role to play in improving healthcare for everyone. If you're interested in getting involved in healthcare research, why not check out all the different ways you can volunteer or read some of our inspiring volunteer case studies?