---
Many of us have experienced back pain throughout our lives, whether that's an occasional twinge or an ongoing discomfort. Arthritis Research UK estimates that approximately one in six adults in the UK suffer from some form of back pain.
The cause of back pain can be difficult to diagnose, and in many cases, it will resolve on its own with no medical intervention needed. For some people though, back pain can cause massive disruption to their day to day lives and activities.
Treatment for back pain can vary too, and could include pain medication, physiotherapy for mechanical issues, psychotherapy for related mental health factors or even surgery for more severe cases.
The Office for National Statistics (ONS) reported that in 2020 musculoskeletal problems, which includes back pain, was in the top four most common reasons for sickness and absence from work in the last decade.
Musculoskeletal issues accounted for 15.4% of sickness and absence in 2020. With such a high prevalence of back pain in the UK, it is a key area of exploration for researchers.
Focus areas of back pain studies
With such a broad spectrum of potential causes and issues resulting from back pain, researchers continue to explore ways to manage and diagnose the condition. The National Institute for Health and Care Research (NIHR) is committed to working with researchers and is funding further research into back pain.
Versus Arthritis is one of the many charities the NIHR collaborates with. The NIHR has supported their efforts by sharing information on arthritis research, co-funding research projects such as the programme of research to personalise care for people with shoulder pain - the PANDA-S study, and helping to deliver research.
Since the beginning of the collaboration with Versus Arthritis in 2002, the NIHR has helped support more than 396 arthritis studies and recruited more than 250,000 participants. The NIHR is also currently offering funding for research into pharmacological treatments for low back pain or sciatica.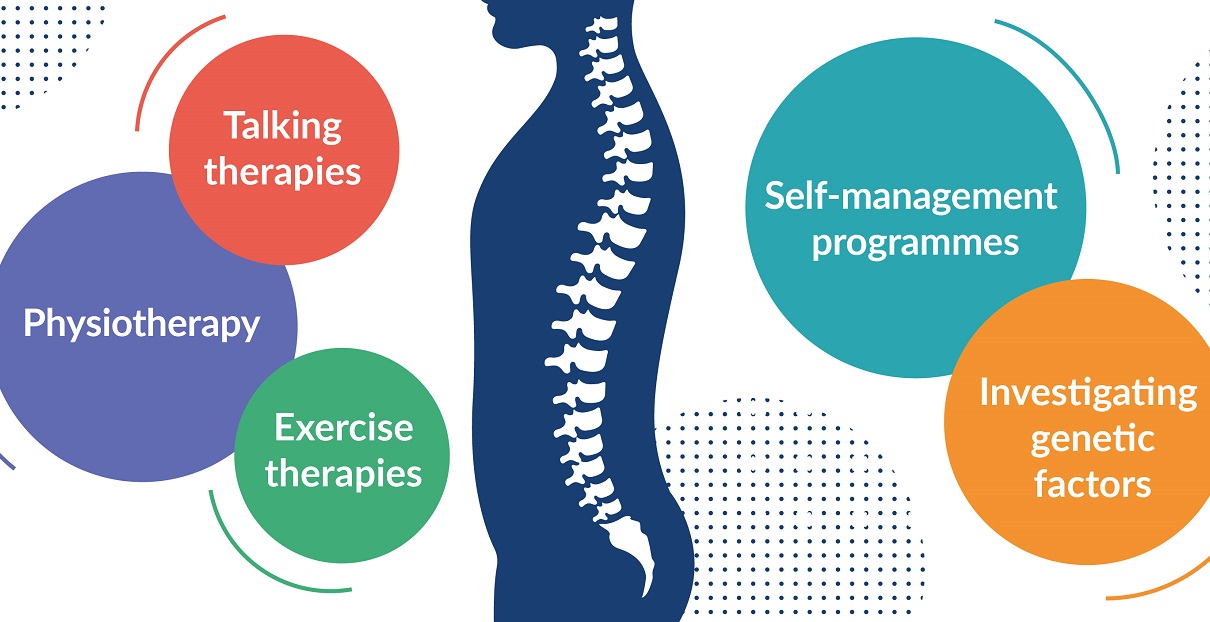 Results from recent back pain studies
Here are some examples of recent back pain studies, which show the breadth of this type of research, and the results that came out of them.
The STarT (screening tool to alert doctors to the right treatment) back trial
This trial looked to improve the ways in which patients with back pain were referred on for treatment from their GPs. Funded by Arthritis Research UK, participants were identified with support from the NIHR Clinical Research Network. The trial ran from 2007 to 2008 and used a targeted questionnaire to help GPs understand the best next step in treatment for people with back pain. Patients were categorised as low, medium or high risk based on their answers.
Low risk patients were given self-management support, whereas high risk patients were given a combination of physiotherapy and psychotherapy treatment. Those in the high-risk group, vs. the control group (where the participants were given treatment in line with the guidelines at the time) showed improved disability scores and were more likely to report reduced pain, less depression and better general health after 12 months.
This trial had a significant impact on how back pain is treated. By using the categorisation of the three groups, patients receive a more targeted treatment plan. The STarT Back questionnaire Tool has been included in the National Institute for Health and Care Excellence (NICE) Lower Back Pain guidelines and implemented in GP practices around the country.
There have been a number of studies exploring the relationship between mental health and back pain. A systematic review by the NIHR Collaboration for Leadership in Applied Health Research and Care at Oxford Health NHS Foundation Trust, found that talking therapies such as cognitive behavioural therapies, were more effective than no treatment at all for the improvement of pain.
This is an area which is still undergoing research, but results from the study indicated that the talking therapies may be a worthwhile addition to back pain treatment plans.
Ongoing back pain research studies
Research into back pain covers many different types of studies. If you're thinking about getting involved, here are some examples of research currently underway and still recruiting.
The NIHR has awarded funding to the North Bristol NHS Trust to investigate long-term low backpain, where the pain is caused by small joints between the bones in the lower back. Radiofrequency denervation is a process where a needle is heated and inserted into a nerve to break the nerve, and break the pain signal it send to the brain.
This study aims to test whether radiofrequency denervation (denervation is a procedure that aims to change the way pain is transmitted from the joints to the brain) is an effective treatment for this kind of back pain. Half the participants in the study will have a dummy procedure where the needle is not heated, and the other half will undergo the full radiofrequency denervation.
Researchers want to be able to determine if participants undergoing the real procedure have their back pain reduced, and whether this should be utilised more within the NHS as part of lower back pain treatment. This study is currently underway and will run until the end of 2024.
Funded by the NIHR Academy and sponsored by the University of Southampton, this study is exploring the reasons people might go to the Accident and Emergency department (A&E) for low back pain and whether their needs could be met in alternative ways. Participants will be people who have attended A&E will be asked to complete a one-off interview with researchers, about their experience of attending A&E and how they feel about other healthcare options available for low back pain.
The aim of the study is to understand why they have attended A&E for their pain (e.g. referred by a healthcare professional or not) whether they've sought other methods of help prior to their visit (e.g. visiting their doctor), and whether more can be done in primary care to help lessen unnecessary visits to the emergency department.
Recruitment for this study will continue until April 2022.
If you're interested in taking part in a back pain study you can search for studies recruiting now through our search for a study function of this site.