---
Find out how easily it can fit into your life – however much time and energy you're able to commit.
Every minute in the UK, someone is diagnosed with a new condition or disease. And whether they're prescribed medication, recommended for surgery or started on a course of physical therapy, their treatment will, at some point, have been informed by health research.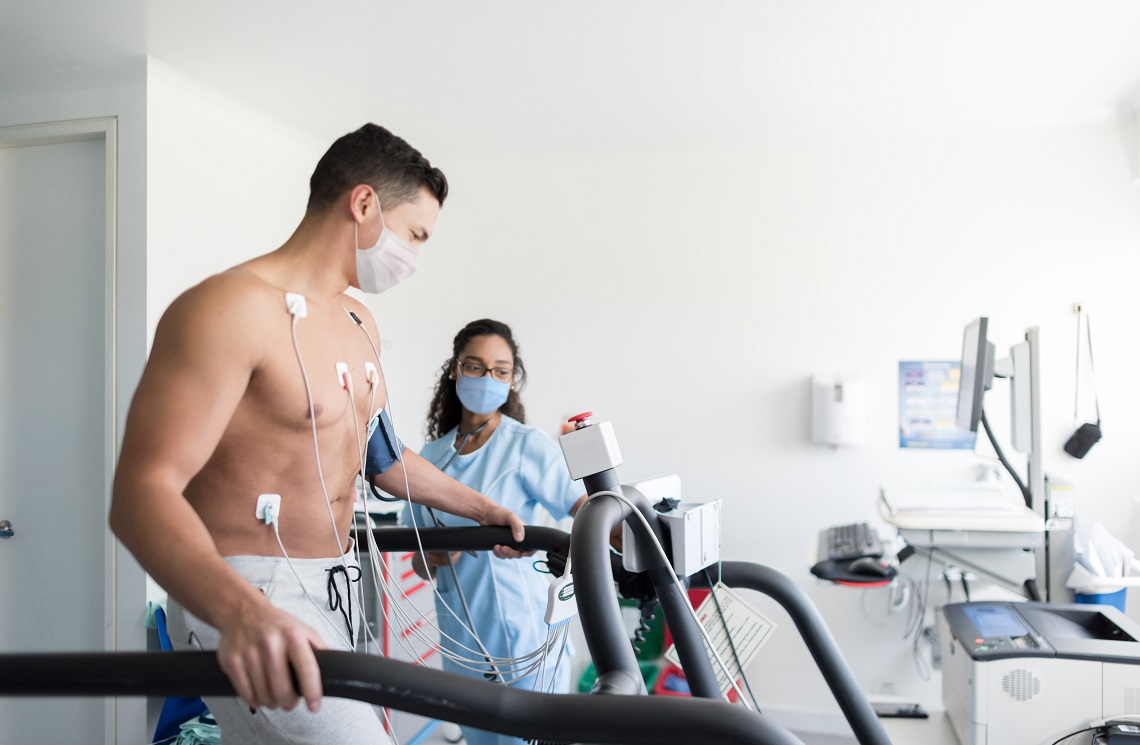 This research is ongoing and happening right now, with more life-saving breakthroughs and amazing medical discoveries being made every year.
And the best part? You can help make these breakthroughs happen.

We'll look at some of the ways you can get involved – and help you find the type of research that'll work best for you.
'Health research' is a broad term for all the different ways of gathering data that informs and advances medical science.
It can take many different forms, and is usually funded by Government bodies like the National Institute for Health and Care Research (NIHR).
Different types of research
Health research isn't all about taking medication and spending lots of time in hospitals. In fact, many kinds of research don't even require you to leave the comfort of your own home.
From taking a one-off survey to making a short-term lifestyle change, there are so many different ways you can get involved – so no matter how much time you can commit, there's a study that's perfect for you.
Cognitive tests
Drug trials
Genetic studies
Lifestyle studies
Nutrition studies
Observational studies
Public health research

Questionnaires

Social care research
Talking therapies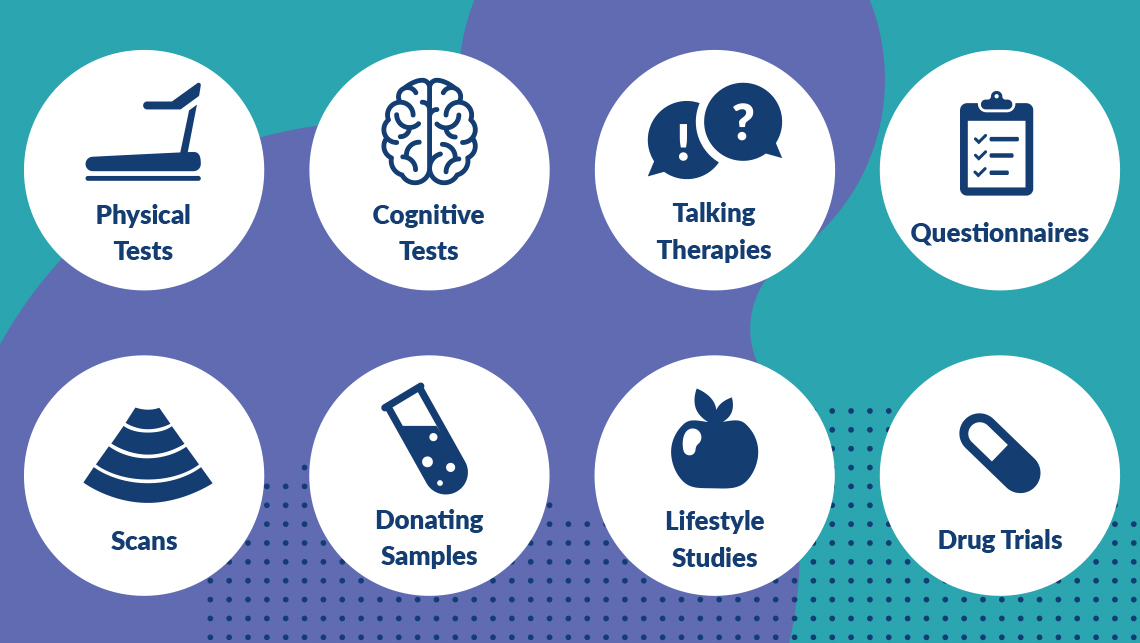 Health research is…
A positive way to take an active role in your own care




A proactive method of learning about a condition that affects you or a loved one

Proven to make a real difference in helping to inform and improve care for all



For mental health as well as physical health

Open to most people, even children and those without pre-existing conditions
Health research is not…

Just for people who have health conditions – almost everyone can get involved


Just about trialling medications – there are many different types of research




Only about finding cures – it also aims to prevent conditions from developing and improve overall quality of life and care




Just something that happens in hospital – many types of research can be done at home



Undertaken without proper guidance – participants are always well cared for and treated with respect, and all research teams must follow stringent ethical guidelines.
Why take part in health research?
Most people first become aware of health research when they, or someone they know, is diagnosed with a health condition.
Driven by the desire to improve their own care or contribute to discoveries that could help their loved ones, these participants get a huge amount of personal satisfaction from volunteering. You only need to read our volunteer stories below to see how much it means to them.

But you don't have to be directly affected by a health condition to feel the benefits of taking part in research. For many participants, simply knowing that they're making such a positive difference to society and healthcare is enough to make their efforts feel worthwhile.
After all, without these volunteers none of the amazing NIHR research breakthroughs made over the past 12 months would have been possible.

And of course, when you lend your time to health research, you're in very good company. In the year before the COVID-19 pandemic led to global lockdowns, over one million people in the UK were taking part in some form of health research – and in the year that followed, more than a million participants were volunteering for COVID-19 research alone. And according to our annual Patient Research Experience Survey, 87% enjoyed their experience – with 83% saying they'd be happy to take part in further studies in future.

Contributing to health research is one of the most rewarding and important ways you can help to advance medical care – but don't just take our word for it. Read these stories of real research participants to find out what volunteering is really all about.
Marium's story
After becoming severely ill with COVID-19 early in the pandemic, Marium Zumeer found herself in hospital, needing ventilation as her condition worsened into Pneumonia. As doctors contemplated placing Marium in an eight-week coma to help her recover, Marium's doctor, Professor Dinesh Saralaya stepped in to offer her the chance to participate in the multi-arm RECOVERY trial, to see if the steroid dexamethasone could help improve her condition. "I thought – even if this doesn't work, you're still helping the doctors to get the information they need for their research. It will benefit people in some way."
Jeffery and Kaitlyn's story
Since being born early at just 30 weeks, Kaitlyn had suffered from chest complaints – and when her illness developed into childhood pneumonia, dad Jeffery was offered the chance for Kaitlyn to take part in an amoxicillin trial. The study aimed to better understand the length of time the antibiotic should be taken for, and Jeffery felt confident that participating was the right thing to do. "If people don't take part, how will they find new ways to improve treatment?" Jeffery says. "At the end of the day, taking part can potentially help someone else."

Eilidh's story
Eilidh Ho enrolled her baby son Finlay into a clinical trial called the Softened Water for Eczema Prevention after seeing the suffering which the condition had caused her nephews. Although researchers tested Finlay from the day he was born and at 4 further stages until he was six months old, Eilidh didn't find the trial intrusive. "We even had a water filter installed at home to help with the study," Eilidh recalls. "I would 100% encourage people to take part in research. You get great care and attention throughout…we've found it a privilege to take part."

Read Eilidh's full story
What does health research involve?
The timings, conditions and things you might be asked to do on a study all depend on what is being researched – but a few aspects always stay the same.


You'll always be told exactly what's involved, and you won't be expected to understand lots of medical jargon

You can change your mind or drop out of a study at any time

All studies have to go through strict ethical and regulatory checks before they can go ahead




You'll be fully informed of any potential side effects of medication or vaccines




You'll receive excellent care and support at every step of the way




You'll be contributing to positive change, ground-breaking discoveries and improved care for today and future generations




You can choose the length and type of study that suits you – so if you don't want to travel far or commit too much time, you can still get involved



How you can get involved in health research
Ready to find out how you can get involved with the next amazing research breakthrough? It's easy to sign up and get started, and you don't need to have any pre-existing health conditions or a lot of time to spare.

You can search our list of studies to find one that sounds right for you.

If you want more information on what to expect, you can find out more about what happens on a study.

Or if participating in a study isn't convenient for you right now, you can find out about the other ways to get involved in research.

Don't forget that none of the advances in medical care would be possible without the generosity and dedication of volunteers just like you. So however you get involved, you'll be making an amazing difference – not just on today's healthcare, but for generations to come.