Be Part of Research is run by the National Institute for Health and Care Research (NIHR).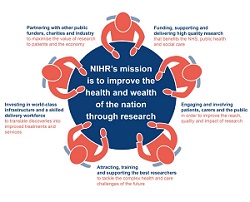 The NIHR is the nation's largest funder of health and care research and was established by the Department of Health and Social Care. Our people, programmes, centres of excellence and systems together represent the most integrated health research system in the world. We have transformed research in and for the NHS.
This website is just one of the services we provide. We also:
fund high quality research to improve health

train and support health researchers

provide world-class research facilities

work with the life sciences industry and charities

involve patients and the public at every step
Be Part of Research is an online service that provides an opportunity to help members of the public understand what research is and what it might mean to take part, as well as showing what research is currently happening across the UK.
The site supports the National Institute for Health and Care Research (NIHR) aim to help people make informed choices about taking part in health and social care research and make sure everyone has the chance to get involved, if they want to.
Information about studies
Study data on this site is refreshed weekly and comes directly from two databases:
Newsfeed
Our latest research news feed is provided by:
NIHR Alerts: Provides a plain English summary of the latest important research from the NIHR
To receive the latest news on how we're involving patients, carers and the public in our work, sign up to our quarterly newsletter.
If you want to know more about opportunities to participate in research or become involved in supporting the development of research, whether for yourself or on behalf of others, then please connect to the following social media accounts:
Twitter: Be Part of Research and NIHR Involvement
Facebook: NIHR
YouTube: NIHRtv