In 2020, when the COVID-19 pandemic plunged our National Health Service into crisis, the pressure was on to find treatments, fast. Across the globe, health research studies were rapidly fired into action – and among them was the Randomised Evaluation of COVID-19 Therapy (RECOVERY) study, supported by the NIHR.
RECOVERY is the world's largest trial of potential COVID-19 treatments and has recruited thousands of patients in the UK and across the world.
One of the first successes of RECOVERY was the finding that dexamethasone, a widely available steroid, could reduce the risk of death in COVID-19 patients. In fact, it was found to cut deaths by a third among COVID-19 patients who needed ventilation, and by a fifth among patients receiving oxygen as their only treatment.
As with every amazing health research breakthrough , its successful outcome could never have happened without the help of its volunteer participants. This is the inspiring story of one of those volunteers, and the doctor who turned her situation around.
A terrifying battle with COVID-19
Marium was 18 years old when the COVID-19 pandemic struck, and it was during Ramadan that she began to feel the first effects of the virus. "That night I started feeling unwell," Marium says, recalling the cough and high temperatures that have become a tell-tale sign of COVID-19. "By the tenth day I could only drink water, and the cough really hurt. I had no energy, and it was becoming difficult to talk."
Fearful for her health, Marium's family followed government guidance and called 111, who quickly dispatched an ambulance to check her oxygen levels before taking her in to hospital. "I've never had to go to a hospital before," Marium says. "It was all a big shock to my system…I was so scared."
Twelve days after her symptoms began, Marium's condition continued to worsen – and the virus had also spread among her family, sadly leading to the death of her grandad. Among this heartache, Marium was terrified to learn that she had contracted pneumonia in her lungs, and that there was a chance she would have to be put into a coma for eight weeks. "At that point I just lost it," Marium remembers. "I was upset and crying and just wanted to see my mum and dad. The scariest part was being alone – you need that emotional support as well as medical."
Fortunately however, Marium's doctor decided against inducing the coma, instead putting her onto a ventilator to help recover her oxygen levels. Uncomfortable and frightened, but stable for now, Marium was struggling to adjusting to her treatment in hospital – when she was approached by a doctor with a plan that would make all the difference.
Marium's journey to RECOVERY
Professor Dinesh Saralaya, Consultant Respiratory Physician and Director for Clinical Research at the Bradford Institute for Health Research, has been involved in clinical trials for over 11 years. When the RECOVERY trial was set up, Professor Dinesh became the principal investigator for the trial at Bradford teaching hospitals.
Professor Saralaya began recruiting participants for the study in March of 2020, and it was in April that he met Marium for the first time. "She was very sick," he recalls. "She was requiring 100% oxygen and wasn't tolerating the CPAP (Continuous Positive Airway Pressure machine). She was petrified."
With Marium's illness still not improving, Professor Saralaya was eager to suggest that she took part in the RECOVERY study in the hope that the use of the steroid dexamethasone could improve her condition. "He explained the trial and was really confident that it would work," Marium recounts. "I thought – even if this doesn't work, you're still helping the doctors to get the information they need for their research. It will benefit people in some way."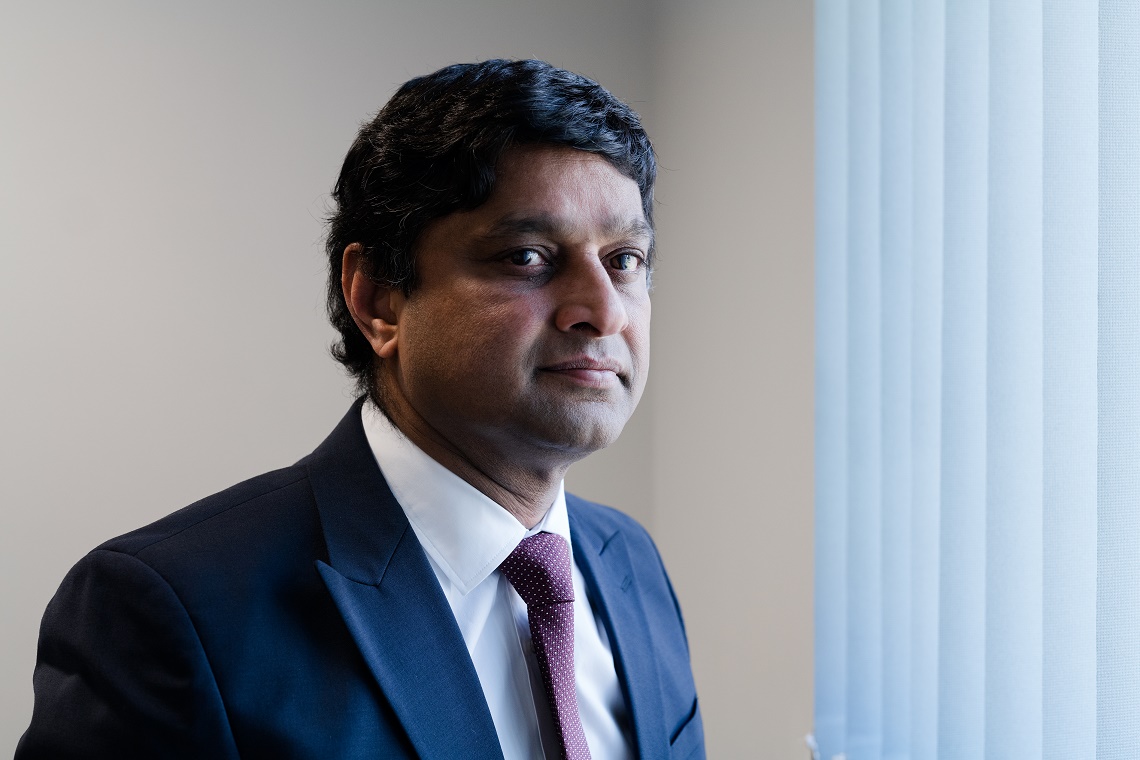 After consulting with her family – and learning that her uncle had previously taken part in research studies – Marium agreed to participate in the RECOVERY study. "I wasn't that worried," she says. "I had no idea about research, but from the way that the doctor approached me and explained everything to me and my dad, it felt like the right thing to do."
Despite her initial reservations, Marium found that her part in the study was simple. "It was so easy," she says of the treatment, which simply required her to take additional tablets every day – and the effects were quickly clear to see. "I saw Marium on Monday, and by the following Monday she was off the oxygen and was discharged," says Professor Saralaya. "It was a tremendous joy. She made a significant recovery within 10 days."
Inspiring change through health research
The success of the study wasn't only a huge relief to Marium and her family – it also delivered an important message for other would-be health research volunteers, particularly younger people and those from black, Asian and ethnic minority communities.
"Historically, people from the black, Asian and ethnic minority communities haven't engaged in clinical trials, for various reasons," Professor Saralaya points out. "That's why we wanted to use survivors to tell the powerful message of the RECOVERY trial. Marium helped send a strong message that the hospital was there to help, and that trials were being conducted in a way to help patients and improve their outcomes."
Today, Marium is proud of the impact she's been able to have on encouraging others to take part in health research. Since recovering from COVID-19, she has not only shared her experience with the media, but has also become a Public Research Champion for the RECOVERY study. "I've joined the Urgent Public Health panel, where I review current studies," Marium says.
The Urgent Public Health Panel (UPH) is a national panel, convened by the NIHR which supports the Chief Medical Officer to prioritise and support important COVID-19 research studies.
"The panel had no people from black, Asian and ethnic minority communities and they were all older than me. But I'm confident and I know how to speak out, how to talk to the younger people who could also really make a difference and ask why they aren't being given the same opportunities."
A year on from contracting the virus, Marium is now looking forward to joining the police force and continuing to help support her community. "I've learned that we need research to move forward," she says. "To anyone thinking of volunteering for research, I'd say to make sure you feel comfortable and speak to the people you're close to. These are big decisions."
"I'm proud of myself for going through the experience," Marium adds. "I wouldn't have thought twice about health research in the past – but in the end it makes such a difference. There's so much you can learn."
With COVID-19 trials still ongoing, there are so many ways you can make a difference just like Marium and you can still join the NHS Vaccine Research Registry.

Learn more about the different kinds of health research or find a study that works for you today.